| | |
| --- | --- |
| Newsletter | |
May News

Toby has been on track at Churchill since April 22nd getting a final glimpse of most of the Oaks and Derby competitors. Spoke with him this morning and he is going to have some strong opinions for the two big days this Friday and Saturday.

Click here to read the whole report

March News

We are three months through the year which means Triple Crown Madness takes center stage. And this year we think there is a legit chance that the Kentucky Derby winner comes out of the West Coast.

Click here to read the whole report

Feb News

The inaugural CASE NEWSLETTER (last month's) hits a home run with highlighted first time starter MAMMA KIMBO running to her strong morning activity. She paid a surprising $14.60 on the win end. Toby made her best on the Winners Card that day and we also had her as the Key Play on the So-Cal Works report. But we must turn the page on that success and grind forward with hopefully more profitable information.....

Click here to read the whole report

Jan News

With 2012 in full swing it felt like a good time to offer up some information on horses we are anxiously awaiting to perform in the next month. Get your stable alert accounts ready to go.

Click here to read the whole report



Donald Harris





Independent clocker currently based at Hollywood Park, working alongside business partner Toby Turrell in publishing both The Winner's Card. Harris also clocks the morning scene summers at Del Mar. Former association clocker for Del Mar, Hollywood Park and Fairplex, timing the official morning workouts for those tracks. An experienced eye at the Thoroughbred sales as well, putting his watch on future prospects in California, Florida and Maryland. Featured on a segment of HRTV's popular television program "Inside Information" in 2008, chronicling what it takes to be a clocker. Published handicapper in various racing publications over the years. Son of former San Diego Chargers cornerback Dick Harris, who played for the 'Bolts from 1960-65.



Follow Donald on Twitter
Articles By Donald Harris
NFL PLAYOFFS
HAPPY NEW YEAR - COMPLIMENTARY SELECTION
WEEK 16: THURSDAY NIGHT
WEEK 15 - THURSDAY NIGHT PLAY
Thursday Night Special: Cleveland at Pittsburgh
Great Interview with Jerry Hollendorfer and Others
Great Interview with Jerry Hollendorferand Others
The Radio Show with Tom Ludt and Bill Strauss
Radio Show August 13th -- Bill Strauss and Tom Ludt
Radio Show -- Mike Smith Hall of Fame Jockey, Lou Raffetto TOC, David Israel CHRB
DEL MAR OPENING - Thoughts on an approach to gambling
Del Mar Opening 2011
SATURDAY BELMONT - JULY 16
JULY 14 - THURSDAY at Belmont
BELMONT - FRIDAY JUNE 17
BELMONT - THURSDAY JUNE 16
BELMONT - PICK 6 CARRYOVER
THE BELMONT
BELMONT - FRIDAY JUNE 10
BELMONT - THURSDAY JUNE 9
BELMONT - WEDNESDAY JUNE 8
BELMONT - SATURDAY JUNE 4
BELMONT - FRIDAY JUNE 3
BELMONT - THURSDAY JUNE 2
BELMONT - SATURDAY MAY 28
BELMONT - FRIDAY MAY 27
BELMONT - MAY 26 THURSDAY
BELMONT - WEDNESDAY MAY 25
BELMONT - SATURDAY MAY 21
BELMONT - FRIDAY MAY 20
BELMONT - MAY 19 THURSDAY
BELMONT - WEDNESDAY MAY 18
THE PETER PAN
BELMONT, MAY 13 FRIDAY
BELMONT, MAY 12 THURSDAY
BELMONT - MAY 12 WEDNESDAY
BELMONT, MAY 8 SUNDAY
BELMONT, MAY 7, SATURDAY
BELMONT - MAY 6, Friday
BELMONT - MAY 5 Thursday
May 4, Wednesday
April 30, Saturday
Opening day Belmont
April 23, Saturday
April 22, Friday
April 16, Saturday
April 20, Wednesday
April 21, Thursday
April 15, Friday
April 14, Thursday
Wednesday, April 13
Wood Memorial at a glance.
Radio Review April 17th
Blind Luck
Adrenaline flow! -- Derby 2010
Tuesday top billing
More morning glory
Is Zenyatta going in the right direction?
Adding to Clocker's Notebook
Zenyatta edging closer
Zenyatta puts on a show
Clocker Diary
Capital Account racing Saturday
Scenic Blast on Sunday
Clocker Diary continues
Yankee Station on return
Clocker Diary updated.
Scenic Blast in the BING!
Monterey Jazz and Zenyatta
Update May 11
Hollywood Park Opening Day
Bullet Points

Toby Turrell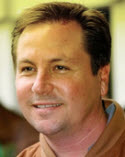 Toby Turrell has been clocking horses in Southern California for more than 20 years, and is widely recognized as one of the circuit's premier morning observers.


Follow Toby on Twitter


In 2007-'08, he also spent much of the season around the country at prestigious meets such as Keeneland, Fair Grounds and Churchill Downs, where he was trackside clocking Kentucky Derby contenders. Spent as much time in 2007-'08 following the daily routine of Horse of the Year Curlin than perhaps any man other than the horses' connections. Turrell has published the popular Winner's Card selection sheet on-track at Southern California's racing meets for two decades, nicknamed "The Yellow Sheet" by local favorites. Moved the Winner's Card online for the first time during the 2006-'07 Santa Anita winter-spring meeting, and added a full-fledged, detailed, daily workout report to his arsenal during the 2007 Del Mar meeting. Toby Turrell is a horse racing aficionado with regal bloodlines. A member of the noted Baedeker family of Southern California racing, his grandfather, Bud, pioneered the racing information business in the area in 1938. Two of his uncles are TVG analyst Bob Baedeker and former Hollywood Park president Rick Baedeker, and his father, Terry Turrell, has been a syndicated newspaper handicapper in Southern California for more than 30 years. A successful stakes-winning owner and breeder as well, enjoying success at many levels of the racing industry. Toby also is a successful handicapping tournament player, having twice qualified for the prestigious DRF/NTRA National Handicapping Championship.